Let's Talk the XR-1 Combat Rescue Folder
If you're in the market for a new pocket folder you may want to consider the XR-1 by Ontario Knife Company. A few years ago while I was still in the Army I was given one to test out for consideration as a new addition (or replacement) for one of the survival kits issue items to Soldiers. After the evaluation, I was allowed to keep the knife and it has been my most often carried pocket knife since. I'll add here that I own quite a few excellent quality knives such as a Benchmade automatic knife that are great options, however for me this one is simply my first goto. It held up very well during my testing of it which incorporated a wide variety of field uses and abuse and has held up over the test of time to this point.
Amazon Disclaimer: We provide affiliate links to amazon products when appropriate to the content discussed. These links help to fund our effort to bring quality information to the Modern Warrior Project community.
The XR-1 knife has an excellent ergonomic design and fits my hand particularly well. This is one of the biggest reasons I like it so much. For me, it just feels right. It incorporates an ambidextrous dual thumb stud on the blade for quick opening with either hand. The ergonomic thumb stud placement makes it very user-friendly and quick to open. Furthermore when open my hand wraps it very well and finds its home in the handles built-in finger groove. The knife also has a built-in solid working strap cutter that has a replaceable blade feature and is perfect for the rescue worker that finds themselves in the need of a seat belt cutter. Though I will mention I did a cursory search for the replacement blades on Ontario Knife Company's site and didn't find them. An email to the company could easily answer the question as to whether they are still available for purchase.
At the end of the blade opening the XR-1 knife has a small but effective glass breaker and on the opposing end, there is a durable lanyard hole for those who choose to utilize one. Another cool feature that Ontario Knife Company added to it is a reversible pocket clip that can easily be swapped to the other side via four Torx wrench screws. The blade of the knife is retained in the open position via a dual titanium liner lock that is reliable, yet easy to disengage when desired.
You can check out my video review below.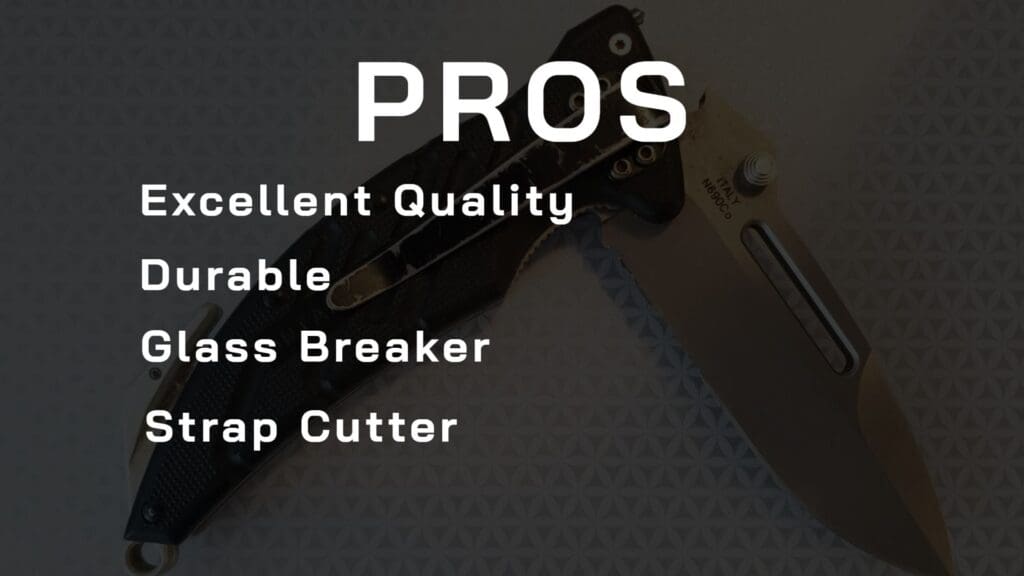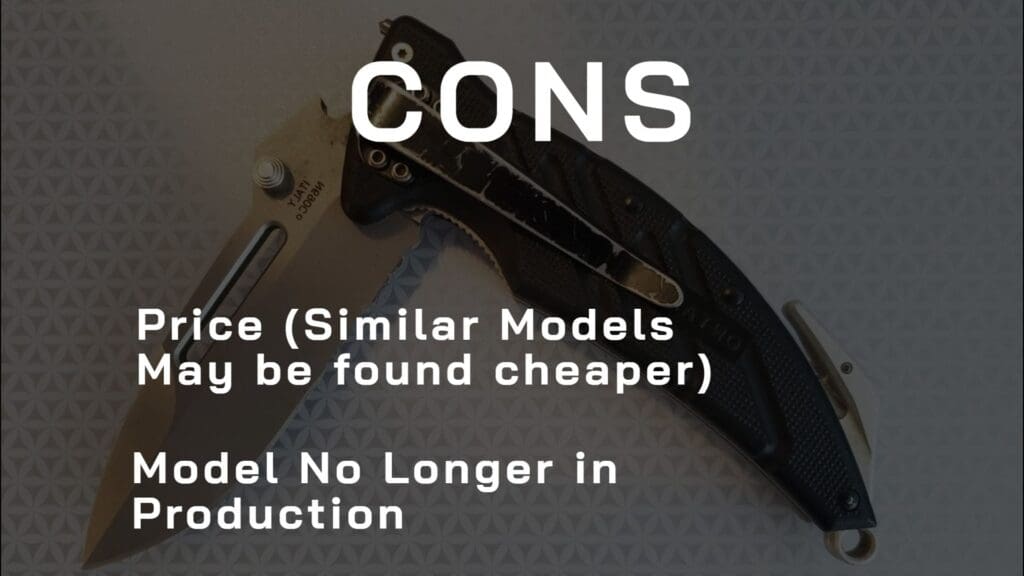 Specifications of the XR-1
| | |
| --- | --- |
| Overall Length: | 8in |
| Blade Length: | 3.375in |
| Cutting Edge: |  3.25 in |
| Blade Thickness: |  0.19 in. |
| Blade Material: | Bohler N690Co Cobalt enhanced stainless steel |
| Blade Hardness: | 59-60 HRC |
| Blade Style: | Spear Point |
| Blade Grind: | Hollow Ground |
| Blade Finish: | Bead Blast |
| Edge Type: | ComboEdge |
| Handle Length: |  5.00 in. |
| Handle Thickness: |  0.68 in |
| Handle Material: | Akulon 6G6 |
| Handle Color: | Black or Safety Green |
| Frame/Liner: | Dual Titanium liners |
| Weight: |  5.50 oz. |
| Carry Method: |  2-Position Pocket Clip  |
| Knife Type: | Manual Opening Folder |
| Opening Mechanism: |  Thumb Stud |
| Locking Mechanism: |  Liner Lock |
Model Variations of the XR-1
I have seen the XR-1 in two color variations. Those being Black (as mine) and Safety green. Additionally, OKC also offers a full serrated version of the knife, but it is quite a hefty price. At the time of writing this, it was listed at $295.00.
Comparable Cost
2 Money Symbols is average in the market for the item.
Value for the Money
I believe the XR-1 tactical knife is a good value for the quality. That said I'm obviously a fan and therefore willing to spend a fair amount for something I really like. If I look at it impartially across competitors it is slightly on the high end of the cost scale. I do believe the fully serrated version mentioned above is overpriced at the current listed price.
Comparable Competitors on the Market
There are a number of what I would call comparable competitors for the XR-1 on the market, as is the case with most knives since it is such a saturated market. I've placed three Amazon Ad links below for some I think are good alternative options. Note on these choices. I do not have them and selected them based on similar capabilities and good user reviews.
Conclusion
The XR-1 Combat Rescue Knife is an excellent pocket folder to add to your EDC (everyday carry). OKC knives has done an excellent job with this folding knife. Whether you intend to use it as a survival knife, combat knife, or in your professional field I expect you'll be pleased with this purchase.