What is it
The Wicked Tree Gear "Tough Handsaw" is essentially a pocket-sized folding hand saw. The saw comes with an optional scabbard. It's a relatively popular portable saw option for hunters, and the general outdoorsman. The Wicked saw has a positive push-button locking mechanism that secures the blade in both the open and closed positions. It features a high carbon steel blade with tri-edge cutting teeth.
Amazon Disclaimer: We provide affiliate links to amazon products when appropriate to the content discussed. These links help to fund our effort to bring quality information to the Modern Warrior Project community.
Wicked Tree Gear is a division of the American-owned company Outdoor Product Innovations, Inc which is located in Ohio. It is worth noting though that the tool itself is made in China. However, don't let that scare you away just yet as the tool seems to be well made and the company does offer a lifetime warranty on it.
My General Takeaway and Personal Experience
About the Wicked Tree Gear Handsaw Construction
As I mention in the video, all in all, I find the tool to be well made. The aluminum handle keeps it both strong and light, and the High Carbon Steel blade is both flexible yet effective. My one negative feedback is that my blade over time has seemed to gain some slop travel, but not to the point yet that I will seek a warranty replacement as it doesn't give me an issue. It's ergonomically comfortable with a rubber grip for your cutting hand, and lightweight as well.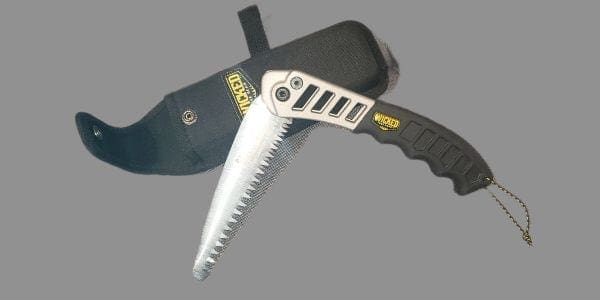 Item Specifications
| | |
| --- | --- |
| Closed Length: | 8.25 in |
| Blade Length: | 7 in |
| Teeth Type: | Tri-edge design |
| Teeth Per Inch: | 7 |
| Blade Material: | Wicked Tree High Carbon Steel |
| Handle Construction: | Cast Aluminum with Rubber Grip |
| Locking Mechanism: | Hardened Steel Lock Pin |
| Total Weight: | .50 lb |
| Warranty: | Manufacture Lifetime |
Wicked Tree Gear Tough Handsaw Models
The company offers two folding-style handsaws. The Tough Handsaw (reviewed here) as well as their Wicked Tough Utility Bone Saw (pictured below). You can buy the Tough Handsaw with or without the sheath.
Using the Wicked Tree Gear Handsaw
Ultimately you use it as you would any hand saw and allow it to do the work (cutting) rather than try and force it. The teeth design actually does a good job and makes cutting through limb size wood a relatively simple and non-exhaustive task. As with most handsaws, especially short portable ones you have to relieve the wood tension weight as you get deeper into the cut otherwise the weight of the limb will squeeze the blade to a stop. This is easy enough by rotating the limb occasionally as you cut it.
Value for the Money
Is the Wicked Tree Gear Tough Handsaw Right for You?
If you like or need a portable hand saw then I'd say yes. A lot of that depends on your particular need for a saw. Being this is a survival and prepper site I'll say this. I don't carry it in my Bug Out Bag as I don't find a strong need for a portable saw and I have a few other alternative products that meet the intent if I need to cut through a limb such as my Parang and a portable survival chain saw which offers some more versatility and space savings.
That said it is in my wife's BOB. It really does come to general preference and need. From reading through other reviews it does appear to be relatively popular in the hunting community as well. If you are primarily looking to make fairly quick work of cutting through 2-4 in limbs while saving space and weight the Wicked Tree Gear Tough Handsaw is a good choice to consider.
Alternatives
Wicked Tree Gear certainly didn't invent or corner the market on folding handsaws and there are a number of alternative choices out there. Most of which come at a cheaper price tag. I'm providing you links to three popular choices on Amazon below. I haven't used all the others and can't offer opinions on them. I will say I have used a number of other folding hand saws and to this point, this has been the best performer. Most are relatively cheap and just don't hold up well. If you know of an excellent one out there please let us know in the comments so I can check it out as well!