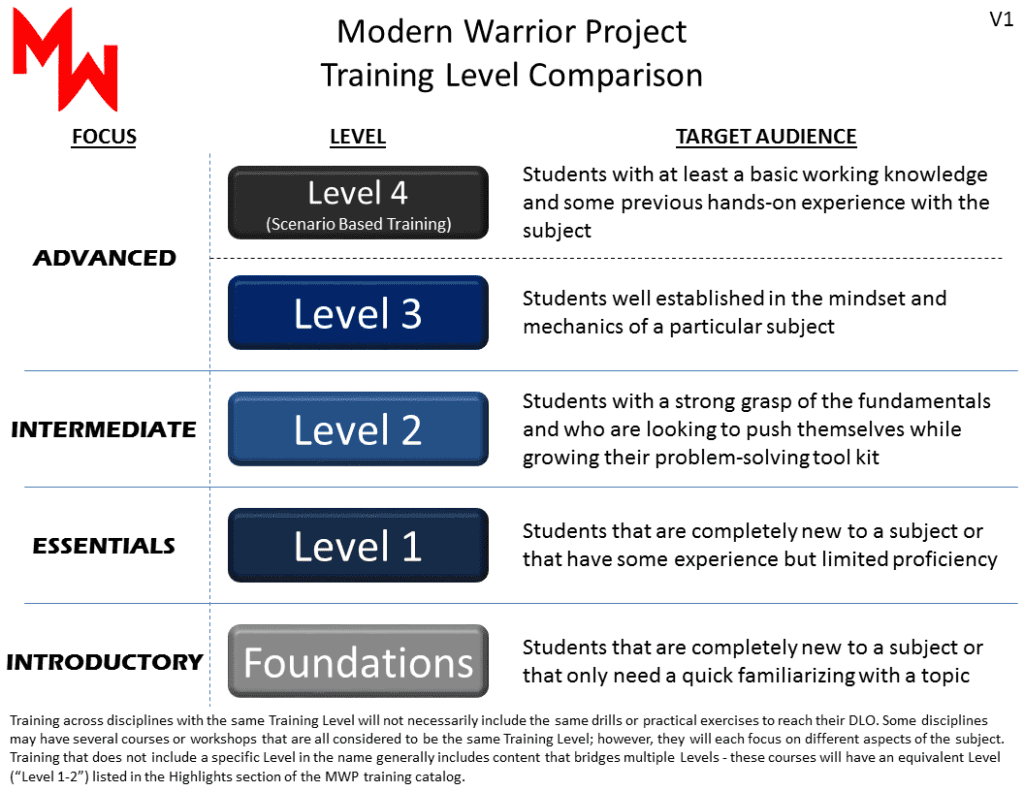 All Modern Warrior training is built on a level-based system. Each level is designed to feed into the next higher level. This naming convention makes it easy for students to determine which class is right for them and helps them select follow on training that complements knowledge and skills they have already acquired.
Training across disciplines with the same Training Level will not necessarily include the same drills or practical exercises to reach their DLO. For example, Defensive Pistol Level 1 (DP-1) and Duty Rifle Level 1 (DR-1) may both be Level 1 classes but the essential academics and skills for each are not exactly the same. Some disciplines may have several courses or workshops that are all considered to be the same Training Level; however, they will each focus on different aspects of the subject.
Training that does not include a specific Level in the name (e.g. Comprehensive Situational Control, Concealed Carry, Duty Rifle Low Light, Restraint Defeat Escape Considerations, Captivity Survival, etc.) generally includes content that bridges multiple Levels. These courses will have an equivalent Level ("Level 1-2") listed in the Highlights section of the MWP training catalog.
INTRODUCTORY LEVEL
Foundations training is meant to establish a true base line of knowledge and technical capability without going into too much detail. Foundations events tend to be shorter (4 hours or less), covering only that information that is absolutely vital to understating the topic, and incorporating at least some practical hands-on experience.
We recommend Foundations level training for students that are completely new to a subject or that only need a quick familiarizing with a topic. Foundations modules also make great short additions in custom training programs to help round out the over training experience.
ESSENTIAL LEVEL
Level 1 training constitutes the core academic elements of a subject and the essential skills necessary for success in the most common scenarios. Level 1 classes are designed to give students a strong but basic problem-solving tool kit capable of addressing a good variety of situations.
We recommend Level 1 training for students that are completely new to a subject or that have some experience but limited proficiency. Level 1 training is also an excellent refresher for students that have not trained on a subject for quite some time. If you only ever take one class in a particular field, it should probably be Level 1. Although more advanced than a Foundations Level class, Level 1 training easily accommodates true beginners.
INTERMEDIATE LEVEL
Level 2 training builds on Level 1 academics and skills by challenging students to apply what they know in more complex ways. Level 2 events also teach additional academics and introduce higher level skills that may be beyond the comfort or ability level of true beginners. The intensity level of some drills and practical exercises in Level 2 training can also increase; meaning students may be required to perform more physically intensive tasks or while subjected to metal stressors.
We recommend Level 2 training for students with a strong grasp of the fundamentals and who are looking to push themselves while growing their problem-solving tool kit. It is possible for some students to be successful in Level 2 training even if they are completely new to the subject.
ADVANCED LEVELS
Level 3 training is considered to be the most demanding and complex requiring a higher degree of prerequisite proficiency and experience by students to ensure they get the most out of the class. Level 3 events refine previous Level skills and introduce advanced concepts and Tactics, Techniques, and Procedures (TTP).
We recommend Level 3 training for students well established in the mindset and mechanics of a particular subject. Level 3 classes are the right choice when looking to learn advanced skills, push and expand the limits of your previous skills, and to round out your problem-solving tool kit to address the widest variety of issues or gain very specific techniques. It is unlikely that even high performing students completely new to the subject will be successful in Level 3 training.
Level 4 training involves a high degree of practical application in the form of Scenario Based Training (SBT). Level 4 classes take place in a Semi-Structured and fully immersive training environment. The use of dynamic role play allows students to gain valuable experience employing a wide variety of previously acquired skills in a way that closely mimics real-world application. Level 4 training provides the greatest possible return on training investment for students wanting to connect tactical and technical concepts with their actual usage. Level 4 training relies heavily on post-scenario discussions and performance de-briefs to address the "grey" area which exists in most critical situations.
We recommend Level 4 training for students with at least a basic working knowledge and some previous hands-on experience with the subject to ensure the best possible training outcome. Although some students may be successful with little to no exposure to the topic, it is very likely they will spend more time in the performance review sessions (de-briefs) with their instructors than other students and therefore may not see as many scenarios.